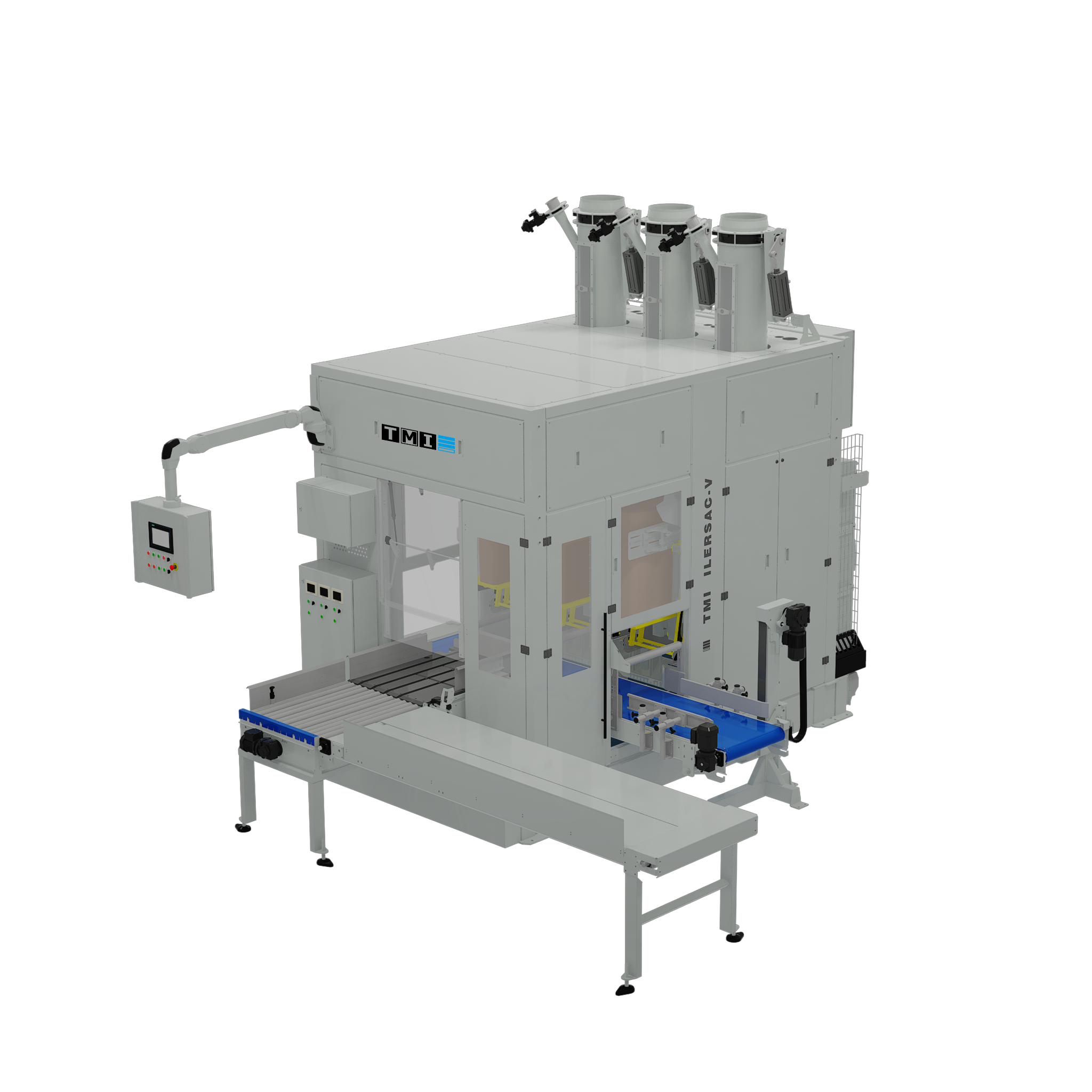 THE AUTOMATIC VALVE BAGGING MACHINE ILERSAC VBF ROBOSONIC PROVIDES...
Total automation of the valve bag filling process: the automatic bag feeding arm together with the recipe configuration allow the bagging process to be performed automatically, from the moment the empty bag is picked up and placed in the bagging spout to the evacuation of the full bag.
High autonomy, thanks to its single high-capacity empty bags magazine, which can be restocked without stopping the bagging machine.
Production flexibility: whether for different products or bag formats, the ILERSAC VBF ROBOSONIC automatic bagging machine allows adjustments and recipes to ensure an always ideal filling of valve bags.
Optimized bagging of powdery products: using the force of air, the fluidization dosing system pushes the product into the valve bag in a sustained flow until the bag is completely filled.
Mixes that are always heterogeneous: thanks to its multi-fluidization options, this valve bagging machine avoids the segregation of heterogeneous products, maintaining the distribution of the different components of the product also inside the bag.
Optimized space, thanks to the anthropomorphic robot with a single pick-up point for bags, which allows a more space-saving configuration.
Dust-free working environment: Thanks to its surrounding chassis, the ILERSAC VBF ROBOSONIC bagging machine for valve bags is able to bag powdery products, while maintaining a clean environment at the bagging point, according to the project requirements.
Product hygiene: ILERSAC VBF ROBOSONIC includes ultrasonic sealing for valve bags, providing quality assurance in the food, chemical and construction industries.
Adaptability to demanding industries: This automatic valve bagging machine can be configured to meet the requirements of the food and chemical industries, which require strict hygiene standards.
Cleaning: the ILERSAC VBF ROBOSONIC automatic bagging machine can be equipped with elements that facilitate cleaning during product changes, such as semi-automatic systems for opening pressurization chambers, or lower sweepers for product recovery, which can be connected to collection systems.
Do you need additional information and pricing of this solution? Get a free quote easily and quickly!
Ask us for a quote
Download brochure
Download the catalogue to find out more about our solutions.
Download datasheet