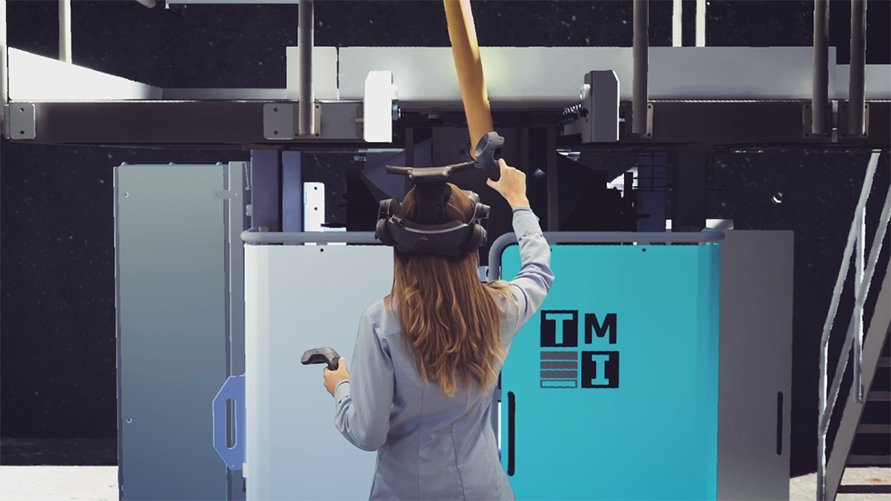 TMI offers customised solutions to meet the bagging and palletising requirements of its customers, who come from a wide range of sectors and have products with diverse characteristics. At a management level, this implies a certain degree of complexity.
Within this context, for a company defined by its open capacity for innovation and process improvement, like TMI, Industry 4.0 is a godsend.
WHAT IS INDUSTRY 4.0?
The main aim of the transformation is to move to smarter and more efficient production processes by digitalising factories. This approach to industrial processes affects production mechanisms and the value chain, enabling machines to exchange information in real-time so that manufacturing processes become more visible and controllable and decision systems become more autonomous and data-driven. Ultimately, this all leads to improved flexibility in production chains.
This process of optimisation focuses on 3 fundamental pillars:
Improving processes, by enhancing the efficiency of employees, the materials used, energy consumption, etc.
Improving product performance, including enhancements in quality and adaptability, and the consistency of those two aspects.
Creating new value, which involves generating new features and business models that operate within the circular economy.
In short, everything goes through some type of enhancement, but this in itself presents us with another obstacle: you can't improve something you can't measure. Therefore, measurement and digitalisation tools become a critical part of the process.
But, how do we achieve this much-talked-about digitalisation?
STAGES OF DIGITALISATION
According to the "Industry 4.0 Maturity Index" study published by Acatech, the German Academy of Technical Sciences, companies today are still tackling the challenge of creating the fundamental conditions needed to implement Industry 4.0, whose basic requirements revolve around computerisation and connectivity.
COMPUTERISATION
This is the first requirement and provides the basis of digitalisation. In this stage, different information technologies are used in isolation from each other. This stage is already well advanced in most companies and is primarily used to perform repetitive tasks more efficiently.
CONNECTIVITY
The isolated deployment of information technology is replaced by connected components. Widely used business applications are all connected to each other and mirror the company's core business processes. Parts of the operational technology (OT) systems provide connectivity and interoperability, but full integration of the IT and OT layers has not yet occurred.
VISIBILITY
Consists of creating a digital shadow of the company. Sensors enable processes to be captured from beginning to end with large numbers of data points. This makes it possible to keep an up-to-date digital model of factories at all times. We refer to this model as 'the company's digital shadow', and it can help show what's happening in the company at any given moment so that management decisions can be based on real data.
TRANSPARENCY
The company focuses on understanding why something is happening to later use this understanding to produce knowledge by means of root cause analyses. To do this, it has to identify and interpret interactions in the digital shadow, and the captured data must be analysed by applying engineering knowledge, which will support complex and rapid decision-making.
PREDICTIVE CAPACITY
Once it has reached this stage, the company is able to simulate different future scenarios and identify the most likely ones. As a result, companies can anticipate future developments so that they can make decisions and implement the appropriate measures in good time.
ADAPTABILITY
It allows a company to delegate certain decisions to IT systems so that it can adapt to a changing business environment as quickly as possible.
SMART FACTORIES NEED SMART WORKERS
One aspect of digitalisation that cannot be overlooked is training and the human factor: successful implementation of the stages described above relies heavily on having a human team that is prepared to adopt new work methodologies that will make them more agile.
In the Industry 4.0 paradigm, the work team must be considerably more agile, cohesive and coordinated at all times, and initiative and self-management skills become vital. This is where new work methodologies and 'Agile' tools come into play, with multidisciplinary teams seeking maximum operational precision through clear and effective communication to save time and anticipate any changes that might arise during the course of a project.
INDUSTRY 4.0: TMI'S COMMITMENT
We are a highly technological company with a team of 30 engineers from different work areas: electrical, mechanical, automation, etc. These engineers interact in an agile way to be open to the constant flow of information that comes with Industry 4.0. Ensuring day-to-day integration can sometimes be challenging, but we remain steadfast in our commitment to maintaining this constant flow of knowledge and tools.
It is with this mindset that TMI has embraced the following concepts and integrated them into its processes and products:
1. ADDITIVE MANUFACTURING MEANS SIMPLIFICATION
TMI specialises in product customisation - the reality faced by each of our clients demands it, and, as a result, we manufacture machines that can comprise around 1,000 parts or more. If we expand that to a whole packaging line, which can include a bagging machine, a dosing system, a palletising system and a wrapping system, we're looking at 5,000 parts per installation as a minimum.
Due to their high degree of customisation, many of these parts are unique, one-off pieces rather than being manufactured in a series. How, then, do we simplify the manufacturing process of this vast quantity of parts to improve in terms of costs, masses, mechanics, etc.? The answer is additive manufacturing.
Additive manufacturing, commonly known as 3D printing, is a constantly advancing technology that reduces the waste, cost, manufacturing time and intermediate processes, like producing tools, involved in the production of customised components. It has allowed the task of making complex parts that used to require multiple manufacturing processes (machining, laser-cutting, metalwork, various treatments, ...) to be simplified to an almost unsurpassable level.
2. IIoT MEANS KNOWLEDGE
IIoT stands for Industrial Internet of Things. Although related to the Internet of Things (IoT), it's a somewhat different concept because, in addition to pursuing the interconnection of all the electronic parts of a system, it also seeks to ensure that they, and the processes they're involved in, achieve maximum efficiency.
Currently, most of TMI's machines have integrated sensors that collect information on their efficiency and display it on a screen to assist the operator. This is known as OEE, and it's a TMI standard that we believe to be vital, because it provides essential knowledge for both the user and the manufacturer of the machine.
Data acquisition is one of the advantages of IIoT: it contributes to decision-making based on quality information and opens up new ways of predicting what maintenance will be required or how regularly spare parts will need to be ordered.
3. VIRTUAL REALITY MEANS SECURITY
One of the great challenges of manufacturing customised lines is its complexity: TMI works with diverse sectors with very different requirements and products with a range of different behaviours. Consequently, our projects involve a high level of innovation, and innovation means doubts.
Fortunately, we can now use virtual reality to address them: it allows us to anticipate, and this is invaluable in the design process. Being able to see a machine or a line and interact with it allows us to visualise its dimensions and how they affect safety, ergonomics and operation.
FROM SCIENCE-FICTION TO REALITY: A REAL-WORLD EXAMPLE
To demonstrate how virtual reality can be applied to the design process of a packaging line, let's take a look at how TMI helped a large global food manufacturer with a project that was critical for its business and its future.
What were the customer's expectations?
Improve productivity

Change the packaging to move the target from B2C to B2B

Optimise energy consumption in all their industrial processes

Reduce the environmental impact of the packaging, eliminating the cardboard boxes the bags were previously placed in.
It was a made-to-measure project from start to finish, which entailed increased risk, demanding deadlines, and a complex solution with high-level requirements.
TMI turned to virtual reality to simulate the line and share the design with the client to get a real feel for their expectations and see if both companies were on the same page.
This interaction with a fictional reality prior to manufacture gave us several advantages:
We were able to put all the critical aspects of the project on the table and reach an agreement.

Both parties felt more secure and confident in the project.
We were able to simulate the technicians' working environment in advance: all the people involved in manufacturing the line (designers, electricians, technicians...) were able to familiarise themselves with it. This gave them prior knowledge of the order in which the components had to be assembled, how to do it, how to access the multiple parts, etc.
IN CONCLUSION
The tools that come with Industry 4.0 are neither a utopia nor are they only applicable to large multinationals or huge-scale projects: SMEs can also benefit from using them, albeit one step at a time.