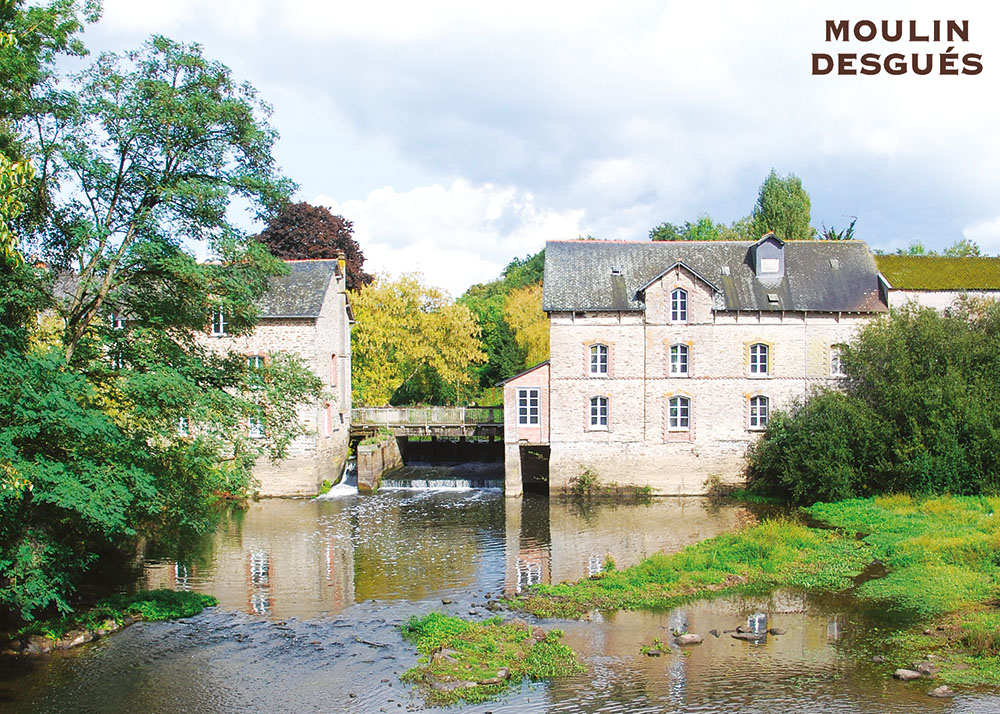 ABOUT THE COMPANY
Moulin Desgués was born in 1891 when Philidor Desgués became a miller at Bazoges Mill. In 1949, the family acquired Acigné Mill, in Brittany, France, and named it Moulin Desgués. This is where the company's production would take place. The company, directed by David and Nicolas Desgués, is still an independent, family-run business today.
Its main activity is the production of flour for artisanal bakeries in France, which they deliver exclusively within a radius of 200 km. Proximity to the customer is one of the three pillars of the company's values. The other two are premium quality and the origin of the wheat, which is always 100% French.
Indeed, the business aims to produce flour of a higher quality than was ever possible before. Thanks to these efforts, Moulin Desgués flour has been awarded LABEL ROUGE certification. To maintain this label, the company undergoes yearly audits and the quality of its flours is analysed on a very regular basis.
THEIR NEEDS
Previously, flour sales consisted of 50% bags and 50% bulk, as was the standard in the industry. But for around five years now, the trend has evolved considerably, leading to a ratio of 80:20 in favour of bags. The main reason for this is that bakers are less and less willing to invest time and effort in maintaining flour silos, when they can simply buy a bagged product that offers the same return.
As a result, almost all flour today is sold in 25 kg bags, which requires palletization of the packaged product.
Moulin Desgués already had a TMI ILERFIL ANS manual bagging machine, with net weight dosage and an auger, which was installed in 2014. However, all palletization was done by hand, which was time-consuming and onerous for employees, due to growing demand for bags. To help them along, the need for an automatic palletizer was identified.
WHY TMI?
Nicolas Desgués defined his end-of-line needs precisely and got in touch with TMI: the company that made and installed the bagging machine with which he is still very satisfied. He says, 'I bumped into Gerard Martinez, TMI'S salesperson, at the Vrac Tech Trade Show in Le Mans. I've known him since we got our bagging machine installed. We talked about my new palletizing project'.
THE TMI SOLUTION
Our technicians analysed the client's needs, the space available, and the production and working conditions, and concluded that the most suitable solution for Moulin Desgués was the ILERPAL P: a gantry-type Cartesian bag palletizer with robotic gripper that can palletize up to 420 bags per hour. This is a simple installation that guarantees high precision. As well as being robust and cost-effective, the ILERPAL P is a compact machine, so it fits easily on a business's premises, even in a tight space. It can palletize bags from 5 to 50 kg and offers flexibility and speed when it comes to bag changes.
First of all, we proposed a new ILERPAL P palletizer to Moulin Desgués, as is the norm for TMI, as our main activity is manufacturing machines. But just at that time, a TMI client in Spain decided to increase their production capacity with an ILERPAL H palletizer, and put their existing ILERPAL P up for sale.
As it had a similar configuration to the one Moulin Desgués needed, TMI spotted a great opportunity for the client and let them know. Nicolas Desgués tells us more: 'First, we received a proposal for a new ILERPAL P palletizer, then we were offered the same model second hand. It was a great deal, because the palletizer was very new and in perfect condition'.
PROJECT EXECUTION
The palletizer sold by the Spanish client was used for seeds and needed some modifications. Moulin Desgués was notified that this would take some time, but much less than making a new machine would take.
Some adjustments also needed to be made to the mill, before the palletizer could be installed: 'We needed to raise the floor level where the palletizer was going to be in case of flooding'.
Meanwhile, TMI adapted the machine configuration to the client's bags, and it became clear that not all bag formats would work: some made the pallet unstable for transport. The client explains:
'During testing in the TMI factory, we were told that the shortest bags were causing problems. And it was true: we saw that we needed to change the bag format for the pallet to be stable and arrive at its destination without a hitch'.
We therefore adapted and standardized the bag measurements, ensuring better stability with bags of the same length to make sure the pallets stay secure during transport.
When the palletizer was ready to be installed on the client's premises, the TMI after-sales department technicians picked up the baton. According to Nicolas Desgués, the installation process went smoothly: 'We got on well with the TMI technicians, who were very professional. They listened to our needs and agreed to make a few small modifications on site. The training was really suited to our use of the machine. The technicians took their time to explain how to use the palletizer in an optimal way'.
IN ACTION
The complete bagging and palletization line has been in action for four months now at Moulin Desgués. This is not much when compared to a machine's total useful life, but the results seen by the client are already excellent: 'It is exactly what we were expecting, and above all, we are relieved not to have to put the pallets together by hand any more. We have adjusted some of the palletizing pattern settings, like the TMI technician taught us'.
As well as a significant reduction in health and safety risk on the premises, as 'less pressure is put on the joints and the back', the client is seeing an optimized work process and a serious productivity boost: 'This saves us a lot of time: now, just one person can do this work, whereas two were needed before. This frees up time to do other things within the business'.
ALWAYS AT THE CLIENT'S SIDE
One of TMI's core values is to accompany the client throughout the journey of defining their bagging line project and in the decision-making process. Here, TMI identified an excellent opportunity for the client and provided the technical support needed to successfully install a palletizer that fully meets their expectations and fulfils their needs.
Want to know how TMI can help to improve your production line's productivity? Contact us through this form for advice adapted to your needs!