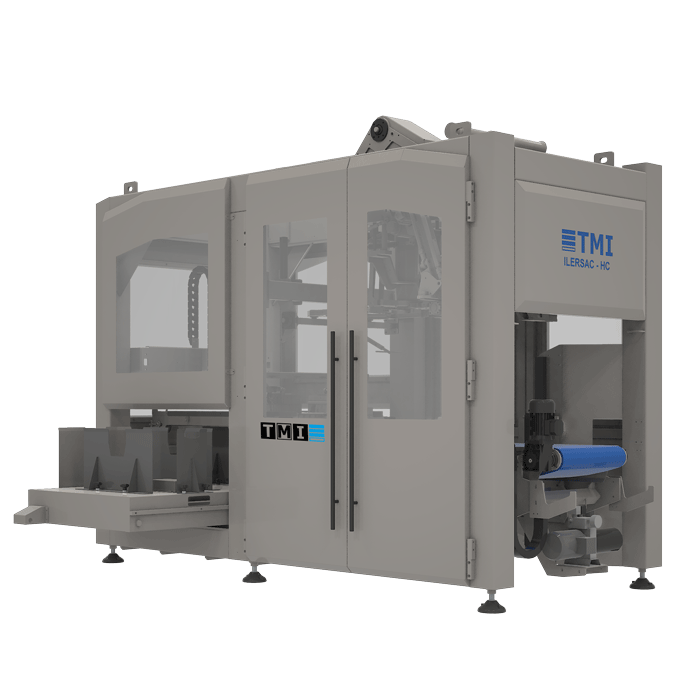 THE ILERSAC HC AUTOMATIC BAGGING MACHINE OFFERS...
Total automation of the bagging process: The bag placing, opening, filling and heat-sealing processes are all carried out within a single bagging machine, which delivers perfectly finished bags.
Hygiene: The maintenance and cleaning processes are easier and quicker. Furthermore, this bagging machine's configuration prevents cleaning and drying routines from rusting and/or damaging the machine.
Easy cleaning: Its barrier-free design facilitates regular cleaning processes, allowing operators to pass through freely. With the optional extra protection, it can be cleaned externally with water. There is a water collection system and drainage point connection built into the bagging machine.
Optimised space: This hygienic bagging machine is designed to fit in climate-controlled rooms, which are often small spaces.
Dust-free work environment: The filling spout is especially dust-proof, and the whole structure of the ILERBAG HC is designed to prevent accumulations of dust on its surfaces. What is more, product loss is avoided, thanks to the hermetic seals throughout the dosing system.
Food safety: It handles bags from which the air can be extracted before sealing (hermetic bags) and fulfils industry-standard food-grade specifications.
Optimal finishes: The bag handling mechanisms maintain the shape of the bag and its gussets at all times, which ensures an optimal sealing finish and results in compact, perfectly sealed bags.
Flexible, quick format changes: This automatic bagging machine for pre-made bags allows for bag format changes within a range of 5 to 50 kg.
Optimised production at the bagging point: The ILERSAC HC bagging machine helps to speed up the final production results, always maintaining a constant rate of bags per hour.
Do you need additional information and pricing of this solution? Get a free quote easily and quickly!
Ask us for a quote
Download brochure
Download the catalogue to find out more about our solutions.
Download datasheet