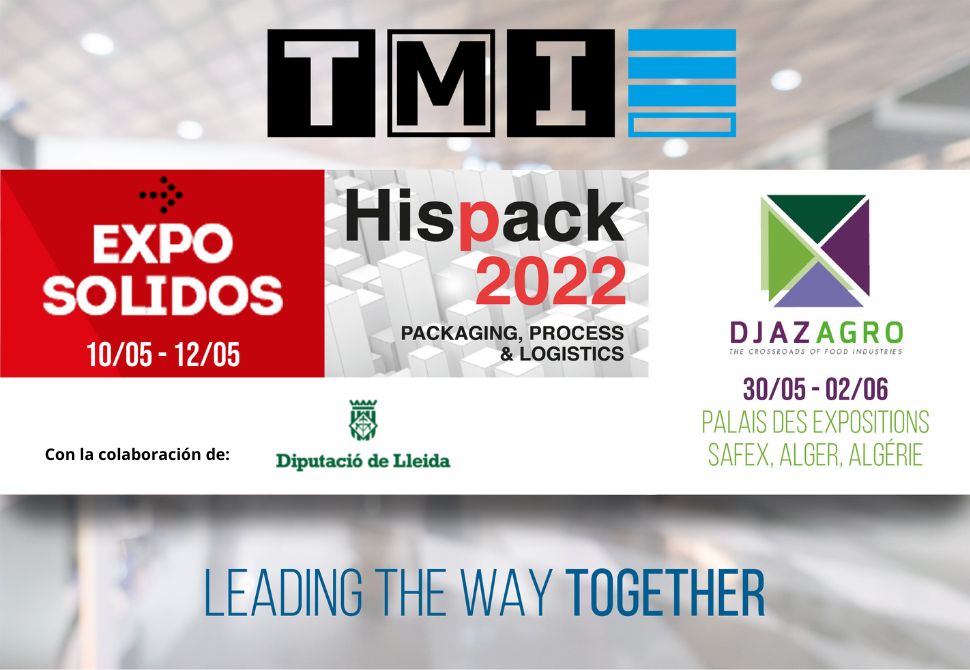 1. EXPOSOLIDOS
May opens with an event that you should not miss if your company produces any type of solid product: EXPOSOLIDOS 2022, which will be held from 10 to 12 May. This exhibition of reference for the industry - in its 10th edition - will be held together with POLUSOLIDOS and EXPOFLUIDOS, two complementary events which generate great synergies.
Previously EXPOSOLIDOS was located exclusively at the La Farga exhibition centre in L'Hospitalet de Llobregat, but this year the event is presenting a new feature: its growth has led to an expansion with a further pavilion at the Cornellá exhibition centre, with both venues being connected by a shuttle.
You will find TMI at Stand E147 at the La Farga exhibition centre in L'Hospitalet de Llobregat.
You will also have the opportunity to attend the conference organised by TMI "The importance of a good risk analysis in machines. Regulatory framework and cases" given by Antoni Vallés, Operations Manager at TMI.
Interested? We look forward to seeing you on 12th May at 10:00 in Conference Room 1 at La Farga de l'Hospitalet. ( Contact us and we will let you know how to register).
2. HISPACK
Welcome to the great meeting of Packaging in Spain! HISPACK 2022 will be held from 24 to 27 May at Fira de Barcelona and, as usual, will bring together the main players and companies in the world of packaging, both in Spain and internationally.
TMI cannot be absent from this event, and is already preparing something very special to receive your visit at Stand G134 in Hall 3. Come and see us to discover first-hand industrial packaging solutions that will surely amaze you.
Want to register? You can do it directly on the event website, or write to us and get a free invitation.
3. DJAZAGRO
DJAZAGRO is the leading trade fair for professionals in the agri-food sector in Algeria. Since 2003, it has been held every year in Algiers and brings together all Algerian and international players in the agri-food sector. It is a great event not to be missed if you have business in the Maghreb.
DJAZAGRO will take place from 30 May to 2 June at the SAFEX Palais des Expositions in Algiers.
TMI attends this event through its partner PBH FRANCE, which since 2021 represents the company in France and Maghreb. You will find them at Stand CT F035.
Access to this event is free of charge and all you need to do to obtain a badge is to register on the official website of the exhibition.