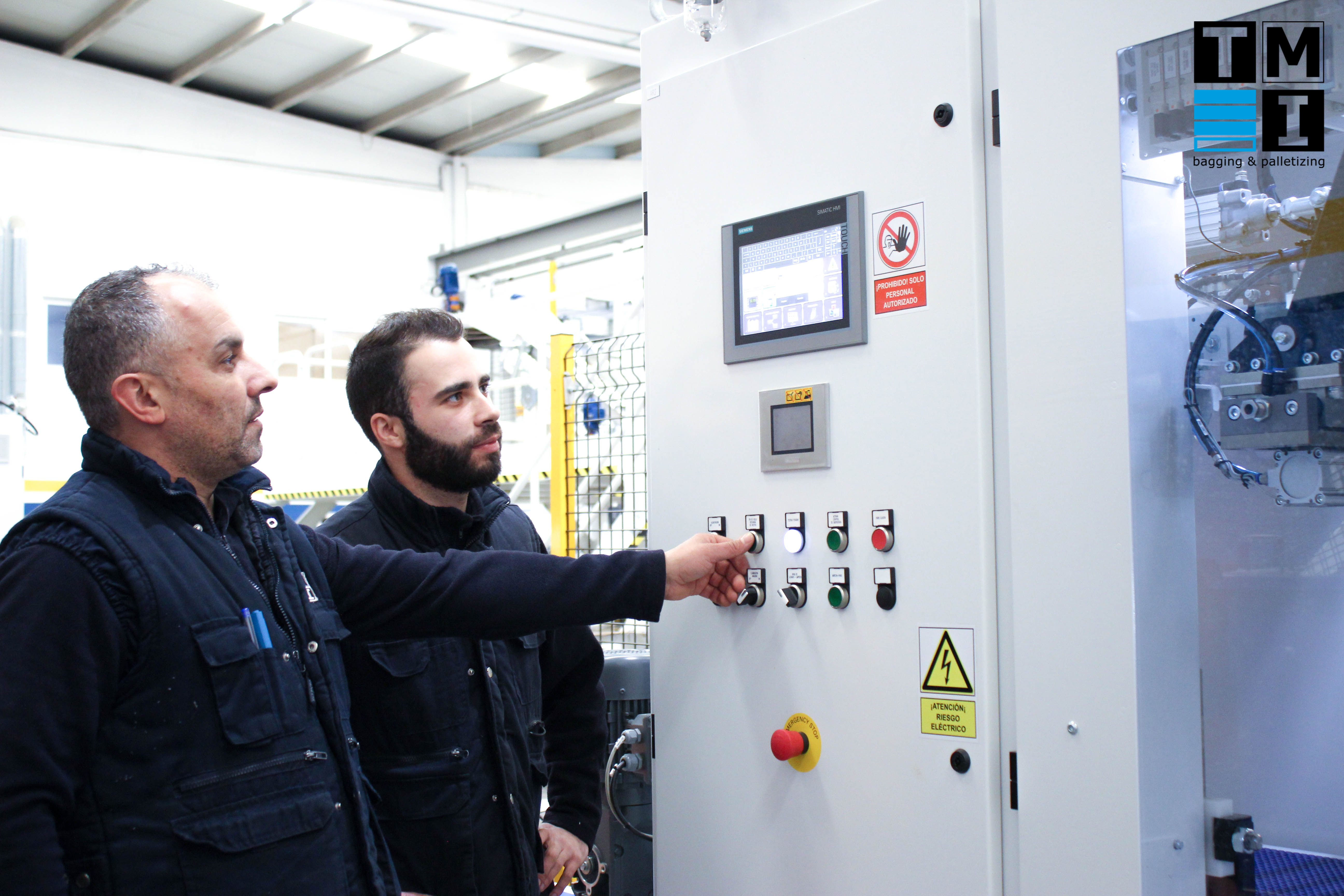 17:30 on any given Friday - An alarm rings. The bagging line has been stopped. While a technician checks the fault and replaces a part that had been on its last legs for days, production has to be stopped as well. It's almost the weekend and by Monday orders must be shipped in, no matter what! But the production rate has dropped, and you have to make up for this time lost in repairs with overtime.
You wouldn't want to be in this situation at all, would you?
The opportunity cost of a spontaneous shutdown is beyond quantification. For this reason, it is necessary to rethink maintenance as a strategic need for the company and implement a preventive maintenance plan. Its main purpose is to prevent emergency situations that could jeopardise production and to achieve maximum operational efficiency.
Do you want to know more? We tell you about it:
¿WHAT DOES PREVENTIVE MAINTENANCE STAND FOR?
Preventive maintenance consists mainly of planning and carrying out those actions that are necessary to prevent breakdowns and reduce the probability of asset failure, so that the installation continues to provide the performance for which it was designed. It is recommended whenever the equipment is necessary for the normal operation of the production activity.
Interventions consist of analysing the existing problems of the machine, whereby sensors and internal mechanisms are readjusted, consumable elements such as filters or suction cups are replaced, cleaning tasks are carried out, guides, chains and bearings are greased, belts are centred and tensioned, etc...
Several methodologies can be distinguished:
Time-based: regular checks are planned, independent of the actual operation of the installation (e.g. quarterly, half-yearly, etc.).
Usage-based: Check-ups are carried out on the basis of the operation of the installation. For example: every x production cycles, every x bags produced.
Predictive: In facilities with OEE measurement and artificial intelligence modules, it is possible to predict when certain parts of each machine need maintenance based on the data and indicators obtained. This method is associated with Industry 4.0 as it requires a high level of automation.
Prescriptive: This consists of anticipating breakdowns, through recurrent checking and monitoring, and preventing them from occurring by scheduling repairs before a malfunction becomes a breakdown.
WHY IMPLEMENT A PREVENTIVE MAINTENANCE PLAN?
Preventive maintenance increases the useful life of equipment, reducing maintenance costs in the long and short term. When machinery is kept in good working order, clean and well-adjusted, its mechanical parts and components do not suffer as much wear and tear and maintain the performance for which they were made for longer. Thus, preventive maintenance is a very effective way of ensuring the proper operation of the critical points of the production line and extending its useful life.
SO WHAT ARE THE BENEFITS OF PREVENTIVE MAINTENANCE?
A well-structured and carried out preventive maintenance plan can be very advantageous for your company, because it...
INCREASES
The availability of machinery and bagging lines, allowing you to meet ratios and customer orders.
Equipment reliability, allowing you to make better production forecasts and reduce delays.
Production throughput, which also provides a better return on investment (ROI).
Safety and comfort for operators, because you reduce the likelihood of accidents, as well as noise and dusty environments that can be annoying and even harmful to workers.
REDUCES
Expenses for corrective maintenance and major repairs, which are often emergency repairs (with all the added costs that this means).

Costs generated by spontaneous breakdowns, including opportunity costs.

Unexpected production stoppages, which can jeopardise contracts and agreements with your customers.

Product losses, which in case of high-value products may also result in economic losses.

Employee overtime: there is no need to compensate for lost hours, if production ratios match the target.
Back to the introduction: No manufacturer wants to be in an emergency situation where the factory is down at the least expected moment. That is why it is particularly interesting to adopt a methodology that reduces the percentage of spontaneous breakdowns and downtime and increases the actual availability of the machinery, while at the same time enhancing the safety of the plant.
We want to help you achieve all the benefits of preventive maintenance, so here are some tips to help you make your plan effective:
8 TIPS FOR PREVENTIVE MAINTENANCE IN YOUR PLANT
1. Plan
In order to carry out preventive maintenance in a meaningful way, the first thing you need is a PLAN. To draw it up, you must take into account the available resources (human and budgetary) and all the critical parts of the line. To this end, you can create a criticality matrix, helping you determine which assets to focus on. If you have a TMI bagging line, you can use the preventive maintenance chart included in the documentation, which details the frequency at which all the parts that make up the machines must be checked, greased, adjusted and cleaned (weekly, monthly, quarterly, half-yearly or yearly).
Keep in mind that, if the preventive maintenance plan is correct, you will spend only 10% of your maintenance time on reactive actions. Therefore, generating a realistic plan and sticking to it will save you time in the future.
2. Use checklists
A checklist can help you to ensure that all parts, assemblies and sub-assemblies of your bagging and palletising machines are properly maintained and keep an overview. You can use it as a maintenance guide and at the same time as a record of what has been observed so that you can take immediate action or take it into account for the next check-up.
TMI technicians who carry out preventive maintenance are provided with an inspection checklist for each machine. Depending on what they notice during maintenance, they will highlight those parts or components that need to be replaced, and give it to the customer so that these parts can be stocked and subsequent maintenance can be carried out.
3. Optimise your stocks
To make preventive maintenance interventions and reactive repairs as efficient as possible, you should make sure that you have in stock those parts that are most likely to need to be replaced. In addition, keeping the necessary spare parts available in advance of maintenance interventions is a good idea, especially if an external technician is coming in. This will help you save costs on additional interventions.
Stocking critical parts and pre-assembled modules can make a shutdown that could last for days, waiting for a part from the manufacturer, last only hours or even minutes.
TMI's Spare Parts Service can help you keep your spare parts inventory up to date so you never have to wait for parts to arrive for maintenance or repairs..
4. Make decisions based on real information
Use the information provided by the OEE module to make decisions. OEE represents the amount of time a line is actually productive. Keep in mind that generally 85% is considered a very good percentage of availability, performance and quality, and that below 60% corrective action should be taken. The goal, however, is always to reach 100%.
UsingTMI's OEE module s a way to maximise the availability of your bagging line, as it provides you with data on bags produced and alarms in real time. This helps you to anticipate operation and maintenance actions.
5. Optimise work recipes
Many of the faults that reduce the availability of a machine are problems in the configuration of the working recipes. If your bagger is not handling bags correctly, or the palletiser delivers unstable loads, it may be due to program maladjustments that often occur at shift changeovers. These malfunctions can end up resulting in breakdowns later on and that is why it is important to include program updates in your maintenance plan.
TMI's Telecare service can help you keep your bagging, palletising and stretch wrapping line programs up to date: The PV Service team connects remotely to the bagging line and can upload upgrades and fix faults with no need to physically come to your site.
6. Identify critical parts and give them priority
By focusing on machine-specific failure modules, you can detect machine malfunctions early and carry out repairs before they affect the performance.
If your bagging and palletizing line is a TMI one, you can request lists of recommended spare parts and critical spare parts from the Spare Parts Service. You can use the information they will provide you with to identify the critical parts and spare parts you need to keep them in good working order.
7. Anticipate
If you already have your preventive maintenance plan in place, you know which days and weeks you are going to dedicate to each area/machine in your plant. This way, you can also foresee the human and tool resources that will be necessary to carry out the maintenance work. Don't wait until the last minute to decide which operator will be assigned to a task: if you plan ahead, your resources will be better distributed.
8. Watch and listen to the TMI technicians performing the inspections
Nobody knows a TMI machine better than its technicians. Take advantage of the interventions of the technicians to get to know your machines better. You will then be able to use this knowledge not only in maintenance, but also in the daily use of the machinery. The visit of a TMI technician is the perfect moment to solve your specific doubts: how should x be checked, how can x be adjusted, ...?
TMI'S PREVENTIVE MAINTENANCE
TMI's Preventive Maintenance service not only offers you the support of an official technician once or twice a year (or as many times as stipulated in your contract) to check all the critical parts of the machine. Each intervention will also provide you with much more than electrical and mechanical checks, software updates, cleaning, adjustments, ... Because the TMI technician always advises you on how to improve the use of the machinery and takes advantage of this maintenance to extend the training of your technicians on the machines, advising your staff and correcting any misuse that is detected. It will also remind the operation of bagging machines, palletisers and wrapping machines to all workers who require it, resolving any doubts on the spot.
If you would like more information on how to contract TMI's preventive maintenance, you can request it using the After-sales contact form: we will be delighted to help you!